Biden Tax Plan Update Series
Our Video Series Discussing the Latest on President Biden's Tax Plans
Join us on Thursdays at 2:00 pm ET as we discuss the possibilities and uncertainties surrounding potential Biden tax legislation. As new developments come to light, we'll release new episodes to discuss what they mean for you. Sign up to receive notifications when new videos are released!
Sign Up for the Latest on President Biden's Tax Plans
"*" indicates required fields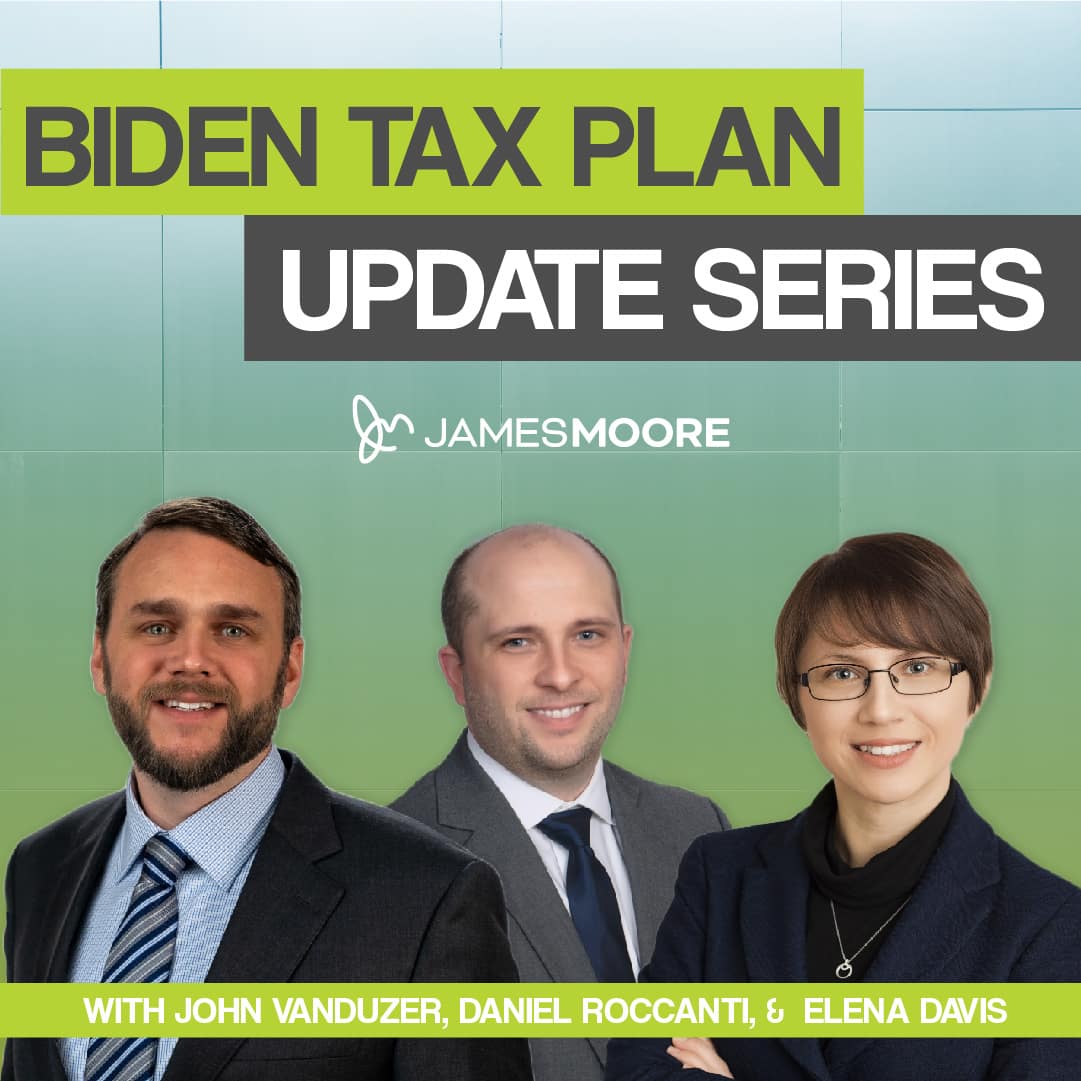 Hello! We're John, Daniel and Elena-also known as the Biden Tax Team here at James Moore. As tax CPAs, our passion is guiding our clients through the complex world of taxes-helping you find deductions, credits and other incentives while making sure you fulfill your obligations.
Now as the Biden administration floats new tax proposals, you probably have more questions than ever about what the future holds for you. The Earned Income Tax Credit, estate taxes, corporate taxes, capital gains… nearly everything is back on the table only a few years after the Tax Cuts and Jobs Act took effect.
As we kept hearing more from our clients about their hopes and concerns, we realized there's another way we can help.
Introducing the Biden Tax Plan Update Series!
Videos premiere on Thursdays at 2 PM and are available on-demand after the premiere. Watch our videos now!
Our video series will keep you posted on the latest developments as President Biden works with his administration and Congress to create and pass new tax laws. We'll highlight specific areas of concern for both individuals and businesses, and we'll track the progress of new legislation.
So join us on Thursdays at 2:00 pm ET as we talk taxes, welcome guests and answer questions. Together we can help you keep more money in your pocket in the face of an ever-evolving tax landscape.
Sign up to receive notifications when new videos are released!
"What we found in James Moore was more than an accountant, we found a business partner…CHW is better because of our relationship with James Moore and its people."
-Rory Causseaux, PE, CEO, CHW, Inc.