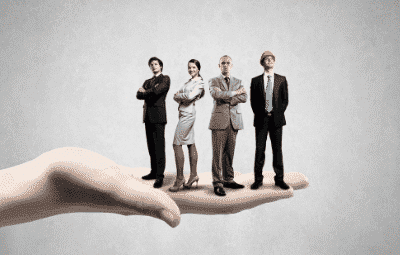 Low unemployment is great, right? Not necessarily, if your company needs talent and your employee recruiting efforts haven't changed in years.
The U.S. economic outlook is on the whole positive, with growth double what it was forecast to be and 20 million more people employed today than in 2010. In fact, the nation's unemployment rate is at a 49-year low at just 3.7%.
The effect: a very tight labor market with fewer people are actively looking for work—making recruiting for talented employees even more challenging. Running an ad will only reach candidates who are actively searching for a position. Meanwhile, passive candidates—those who aren't looking but might be swayed if a better job comes along—are being pursued aggressively and will have a lot of options.
The "post and pray" strategy of employee recruiting simply won't work in times like these. If your company uses the following strategies, it's time to shift gears:
You only think about employee recruiting when you have a job opening.
When you need to hire, you put an ad on one site and wait for responses.
You know your company is great and prospects should be grateful you're talking to them.
So what should you do? Simple: Recruit like a marketer.
Why recruit like a marketer?
Successful companies know that in a highly competitive consumer market, they can't merely list the features of what they sell; they have to promote the benefits. What does our product do for our customers? Why should they want ours more than what our competitors offer? What makes us different and (presumably) better?
By emphasizing benefits over features, a successful company appeals to what consumers are really looking for: an answer to a problem, even when they don't think they have one.
The same goes for employee recruiting in a tight labor market. You need to do more than list the responsibilities and benefits of the job, because anyone can offer a "job."  You need to sell recruits on your company by touting the experience of working there, and how being an XYZ Company employee will make their career—and possibly even their lives—better.
Taking a marketing approach with your employee recruiting involves two steps: employer branding and recruitment marketing. We'll discuss the branding step in this article.
Employer Branding
Apple. Nike. Tesla. What do you think of when you hear these names?
There are plenty of computers, sneakers and cars on the market. But Apple, Nike and Tesla owners are more than just people who have bought those products. They are a part of a culture, a community, sometimes even a world-changing movement. They are brand-loyal buyers who believe not only in the products they have purchased, but in the companies that make them.
The same principle applies when recruiting employees. Go to any job fair that Google attends and look at their booth. It's packed, and not just because they have good jobs available. Google has made it a point to market everything about working for their company. They have a fun culture, innovative management style, beautiful campuses, and status as a world leader in its market. All of that is pretty irresistible to prospective candidates.
This is employer branding—the effort to establish your organization's reputation and popularity as an employer, as well as the value it brings to employees. And it's the first step in modern employee recruiting.
You don't have to drum up Google levels of popularity to attract more recruits. But by building your employer brand as part of your employee recruiting process, you can make a bigger splash in the war for talent.
According to research by LinkedIn, 75% of job seekers consider an employer's brand before they even apply for a job. So if your first reaction to this section was to wonder what "employer brand" means, you could be losing out on some great candidates. Therefore, you don't want to skip this critical part of your employee recruiting efforts.
The Society for Human Resources Management recommends that you consider the following when developing your employer brand:
Know your organization's business, vision, mission, values and culture. Understand the organization's business objectives and the talent needed to accomplish those objectives. Define the company's unique attributes.
Conduct internal research to understand how the organization is perceived by its current employees, as well as by its target candidate group, and what these employees or potential employees want from the organization. Identify top talent, and ask what those employees like about working for the company. Determine the attributes of these star employees that the organization would want to attract.
Conduct external research to learn how the organization is positioned in relation to the competition. Research may be conducted through applicant surveys, as well as via Internet searches, social media or firms that conduct reputation monitoring.
Define an employee value proposition that clearly communicates the value of the brand the organization is developing. The employer brand should truly reflect what is special about the organization and must be aligned with its customer brand.
Develop an employee marketing strategy. The strategy should have a two-pronged approach. First, the recruitment strategy should focus on reaching the targeted applicant base. Attention should be directed to the career page, recruiting sites, social media and other external recruitment sources. The second prong centers on consistently communicating the employee value proposition to current employees to retain and engage them. Use employee testimonials to affirm the brand.
Align the employer brand with the overall company brand. Work with the marketing and communications groups to ensure a holistic branding approach.
Ensure that the people and management practices support the organization's employer brand. Training, coaching, compensation and other HR-related practices can be used to support the brand.
Develop and use metrics to assess and track the success of the employer brand. Metrics may include quality of hire, brand awareness, employee satisfaction, employee referrals or other methods.
Once you have your employer brand established, you can further develop your employee recruiting efforts with recruitment marketing. We'll discuss that in our next installment of this series.
In the meantime, talk to your HR consultant and involve your company's marketing team when creating your employer brand. Recruiting the right talent really does take a village in 2019 and beyond.
All content provided in this article is for informational purposes only. Matters discussed in this article are subject to change. For up-to-date information on this subject please contact a James Moore professional. James Moore will not be held responsible for any claim, loss, damage or inconvenience caused as a result of any information within these pages or any information accessed through this site.