Welcome to Insights by James Moore! We believe that helping people and organizations thrive isn't limited to client service. So we're happy to share our knowledge in a variety of ways — articles, webinars, whitepapers, yearly guides and more.
So take a look around! There's bound to be a resource that helps you.
Insights on topics specific
to your industry:
Free articles, webinars, whitepapers, yearly guides and more, delivered to your inbox.
"*" indicates required fields
Lowering your taxes. Improving your operations. Planning for the future. Remaining in compliance. Whatever your goal, you'll find the information you need here.
Our webinars address topics that help you succeed in all areas of your business or organization. Watch our recordings and sign up for upcoming webinars.
Looking for more comprehensive information on hot topics? Our whitepapers take a deeper dive into the issues that impact you the most.
Stay up-to-date on all developments related to COVID-19 and your financial well being. You'll find articles, on-demand webinar recordings, extensive guides, templates and more.
2021-2022 Tax Planning Guide
Our 2020-2021 tax planning guide provides year-round strategies to make the tax laws work for you!
Healthcare Implementation
Articles, forms, and information that help you and your business make informed decisions regarding the Affordable Care Act.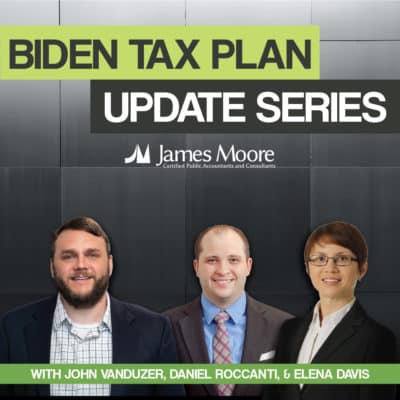 Biden Tax Plan Update Series – Watch Now!
Our Video Series discussing the Latest on President Biden's Tax Plans
Join us on Thursdays at 2pm EST as we discuss the possibilities and uncertainties surrounding potential Biden tax legislation. As new developments come to light, we'll release new episodes to discuss what they mean for you. Sign up to receive notifications when new videos are released.
Estate Tax Law Planning – On Demand Webinar, Watch Now!
Join James Moore and Company, along with our strategic wealth management and financial planning team Avantax Planning PartnersSM, to discuss potential changes to the estate tax law. Together our accounting and financial planning team will share resources, technology, and services available to you. More importantly, our team is here to guide you through times of uncertainty and help design a long-term plan that considers market volatility, political or economic changes, and more.
Using the Guidance Planning Strategies (GSP) program, our team can help build a financial plan based on your goals and what matters most to you. We can also plan for future uncertainty – like changes in the estate tax. Our disciplined approach to holistic financial planning leaves clients feeling comfortable and confident in the future.
Check back soon for upcoming events
Sign up for our newsletter to hear the latest in business news - from real humans.