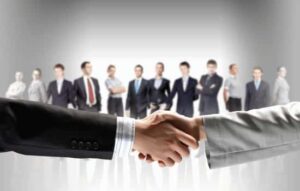 James Moore is pleased to announce the admission of four new partners to James Moore & Company! Congratulations are in order for John VanDuzer, Katie Davis and Stacy Joyner in our Gainesville office; and Zach Chalifour in our Daytona Beach office. They have worked diligently over the years to contribute to the growth and prosperity of their clients and the firm, and we are excited to celebrate their accomplishments.
John has been with the firm since 2008 and provides accounting and consulting services for a wide  variety of businesses, with a focus on serving real estate developers, investors, brokers, property  managers, homebuilders and general contractors. He also specializes in serving businesses with complex  partnerships, helping them navigate structuring, succession planning, mergers and acquisitions, sale  transactions, special allocations, business valuations, estate and gift tax planning, and other multifaceted  engagements. A member of the Construction and Real Estate Services Teams, John has a played a significant role in the  growth of these segments for the firm. In addition to his client work, he helped develop our firm's project accounting service for real estate developers so they can better manage the many  simultaneous projects that are often on their plates. John received his Master of Accountancy and his Bachelor of Science in Accounting from the University of Florida. Married and the father of two daughters (ages 6 and 3), he enjoys spending time with friends and family.
A member of the firm since 2004, Katie has nearly 15 years of experience providing accounting and  auditing, income tax and consulting services. While her clients span many industries, her primary  emphasis has been in the realms of higher education, manufacturing, construction and other  commercial segments. Katie  has played a key role in developing various segments and serves on our Higher Education and  Manufacturing Services teams. Certified in Lean Six Sigma, Katie also has a passion for the nontraditional  services that help businesses and organizations succeed. She has been a driving force in the  establishment of the firm's advisory services umbrella, which provides services in operational excellence, human resources, corporate training and more. Katie is also a founder of Lead North Central  Florida and Lead Central Florida, the firm's leadership development programs that give attendees the  tools and knowledge they need to succeed at the helm of an organization. Katie graduated from the University of Florida with a Master of Accountancy and a Bachelor of Science  in Accounting. She enjoys watching Gator football and traveling with her husband and two children, a four‐year‐old daughter and a two‐year‐old son.
A member of the firm since the beginning of her career, Stacy has over ten years of experience providing  tax advisory and compliance services to a variety of businesses and individuals. Her expertise lies in  small business and tax accounting, with an emphasis on the healthcare and technology industries. Her  knowledge of research credits and other tax‐saving opportunities makes her a valuable resource for her  clients. As a member of the  Technology and Healthcare Services Teams, she has helped James Moore expand its offerings to  clients in these industries, including playing a key role in creating a line of CPA services for dental  practices to address their unique needs. Stacy earned her Master of Accountancy and her Bachelor of Science in Accounting from the University of Florida. A lifelong Alachua County resident, she and her husband have three sons (ages nine, six and one). She enjoys cheering on her sons' baseball teams, volunteering in their schools and watching Gator football.
Zach joined the firm in 2008 and has spent his entire career with James Moore. His primary focus is on  providing audit and consulting services for local governments and government‐related organizations. Zach has  played a pivotal role in the growth of the firm's Government Services sector and is now the leader of that team. In addition to his accounting responsibilities, Zach is a CAFR Reviewer with the Government Finance Officers Association (GFOA) and an instructor with the Florida Government Finance Officers Association (FGFOA). Zach received his Master of Accountancy and Bachelor of Business Administration from Stetson University. He is married and has two daughters (ages three and one). In addition to spending time with his family, Zach enjoys sports and is a die‐hard fan of the Jacksonville Jaguars, Orlando Magic and Boston Red Sox.
All content provided in this article is for informational purposes only. Matters discussed in this article are subject to change. For up-to-date information on this subject please contact a James Moore professional. James Moore will not be held responsible for any claim, loss, damage or inconvenience caused as a result of any information within these pages or any information accessed through this site.