The Centers for Medicare and Medicaid Services (CMS) has released a fact sheet for medical practices on coverage and payments related to COVID-19 diagnosis and treatment. Among other areas, it details coverage of diagnostic tests (including new codes for healthcare providers who need to test patients for coronavirus), inpatient hospital care services and quarantines, telehealth, and more.
You can read the CMS fact sheet here. We're also happy to share the following chart of codes to use for telehealth visits, virtual check-ins and e-visits. (Chart courtesy of Medical A/R Revenue Solutions, with original credit to CMS.gov.)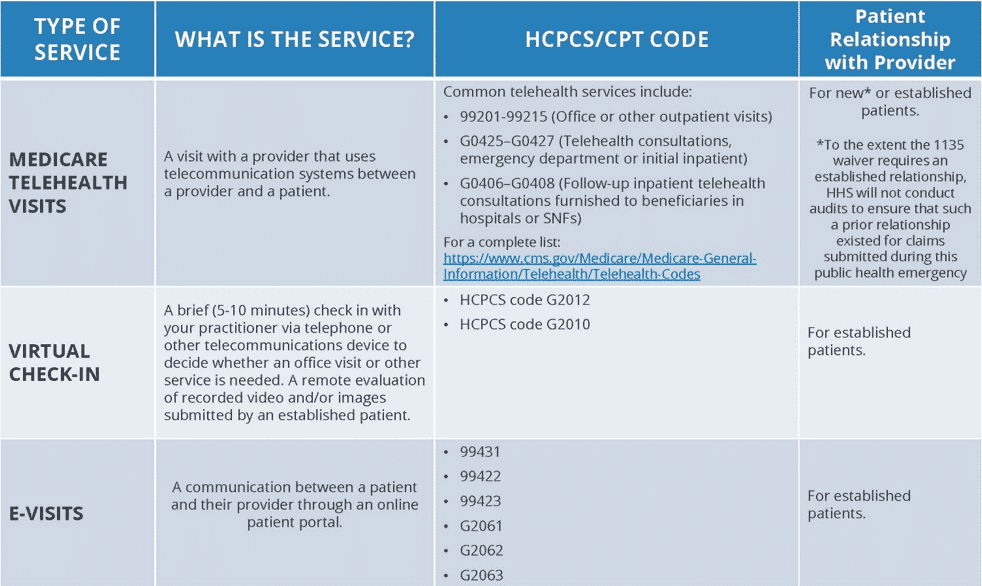 Our Healthcare Services team continues to watch for any news affecting your practice's operations and resources you can use to weather the coronavirus storm.
All content provided in this article is for informational purposes only. Matters discussed in this article are subject to change. For up-to-date information on this subject please contact a James Moore professional. James Moore will not be held responsible for any claim, loss, damage or inconvenience caused as a result of any information within these pages or any information accessed through this site.