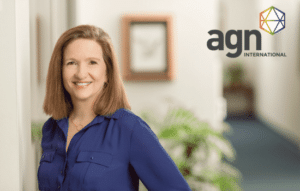 James Moore & Company is pleased to announce that Carol Villemaire, CPA and Managing Partner, has been elected Chair of AGN North America.
AGN North America is a region of AGN International, Ltd., a global not-for-profit association of separate and independent accounting and advisory businesses. Comprised of five regions with 200 firms representing 90 countries worldwide, AGN's mission is to enable its members to support businesses and individuals with high standards, straightforward and practical business advice and local commercial know-how, wherever the need arises worldwide.
AGN North America members are certified public accounting firms (including James Moore) and chartered accounting firms in the United States, Canada, and Mexico. Member firms operate under the foundation that, by sharing resources across accounting firms, they can achieve their goals more efficiently.
All content provided in this article is for informational purposes only. Matters discussed in this article are subject to change. For up-to-date information on this subject please contact a James Moore professional. James Moore will not be held responsible for any claim, loss, damage or inconvenience caused as a result of any information within these pages or any information accessed through this site.